Posts for: March, 2019
By Fox River Dental Batavia
March 19, 2019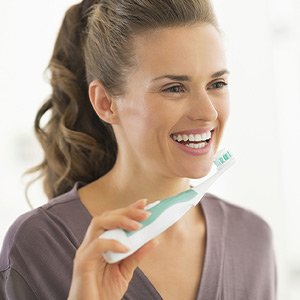 Brushing and flossing are foundational to good oral health and an essential part of daily life. Practicing both these habits removes most disease-causing bacterial plaque from tooth and gum surfaces.
It doesn't take much to manually perform them — a quality soft-bristle toothbrush, fluoride toothpaste and string floss. But what if you have a physical impairment that makes performing these tasks difficult to perform — or your mouth condition requires a little more "power" to adequately access and clean surfaces?
You do have power options for both brushing and flossing. Electric toothbrushes, of course, have been available since the 1950s. As with other technology, they've improved in quality and affordability over the last few decades. They're available in various sizes, rechargeable or battery, and each with their own claims of cleaning ability.
The ultimate question, though, is: are they as effective at removing plaque as manual brushing? That's been the subject of a number of comprehensive studies, including one conducted by the Cochrane Collaboration, a research organization. They evaluated a number of powered toothbrushes over various lengths of time. They concluded that some powered toothbrushes with a rotation-oscillation action had a statistically significant (though modest) reduction in plaque compared with manual toothbrushes.
As to flossing, admittedly it does take some dexterity to accomplish effectively. Traditional string flossing is also difficult if not impossible for people with braces or similar access restrictions to the teeth. An oral irrigator (or water flosser) is a viable alternative. Water flossers work by pulsating water at high pressure through special tips at the end of a handheld or countertop device. The pressurized stream penetrates between teeth and below the gums to flush away plaque.
Are water flossers effective? According to one recent study orthodontic patients were able to remove up to five times the plaque between teeth as those who used only a manual toothbrush.
When considering alternatives to your manual toothbrush or string floss, speak with us first. We'll be happy to guide you toward the best form of brushing and flossing to do the most good in your situation.
If you would like more information on oral hygiene options, please contact us or schedule an appointment for a consultation.
By Fox River Dental Batavia
March 09, 2019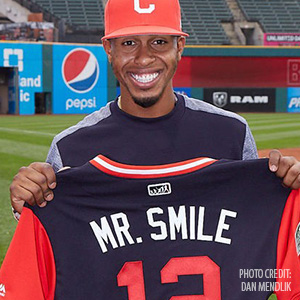 At the first-ever Players Weekend in August 2017, Major League Baseball players wore jerseys with their nicknames on the back. One player — Cleveland Indians shortstop, Francisco Lindor — picked the perfect moniker to express his cheerful, fun-loving nature: "Mr. Smile." And Lindor gave fans plenty to smile about when he belted a 2-run homer into the stands while wearing his new jersey!
Lindor has explained that he believes smiling is an important part of connecting with fans and teammates alike: "I've never been a fan of the guy that makes a great play and then acts like he's done it 10,000 times — smile, man! We've got to enjoy the game."
We think Lindor is right: Smiling is a great way to generate good will. And it feels great too… as long as you have a smile that's healthy, and that looks as good as you want it to. But what if you don't? Here are some things we can do at the dental office to help you enjoy smiling again:
Routine Professional Cleanings & Exams. This is a great place to start on the road toward a healthy, beautiful smile. Even if you are conscientious about brushing and flossing at home, you won't be able to remove all of the disease-causing dental plaque that can hide beneath the gum line, especially if it has hardened into tartar, but we can do it easily in the office. Then, after a thorough dental exam, we can identify any problems that may be affecting your ability to smile freely, such as tooth decay, gum disease, or cosmetic dental issues.
Cosmetic Dental Treatments. If your oral health is good but your smile is not as bright as you'd like it to be, we can discuss a number of cosmetic dental treatments that can help. These range from conservative procedures such as professional teeth whitening and bonding to more dramatic procedures like porcelain veneers or crowns.
Tooth Replacement. Many people hide their smiles because they are embarrassed by a gap from a missing tooth. That's a shame, because there are several excellent tooth-replacement options in a variety of price ranges. These include partial and full dentures, bridgework, and dental implants. So don't let a missing tooth stop you from being Mr. (or Ms.) Smile!
If you'd like more information about oral health or cosmetic dentistry, please contact us or schedule an appointment for a consultation. You can also learn more by reading the Dear Doctor magazine articles "Beautiful Smiles by Design" and "The Impact of a Smile Makeover."